About Loughborough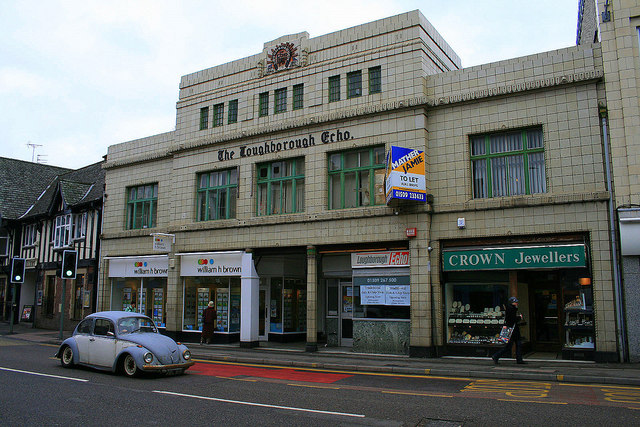 Loughborough
A bustling market-town in Leicestershire, the second largest after Leicester, with an estimated population of just under 60,000, Loughborough is well known as a University town, but has a rich history that predates the University. It is at the heart of Charnwood, the triangle between Leicester, Derby and Nottingham and is conveniently located on the East Coast main railway-line. It is connected to the extensive Midlands canal network and easily accessible from the M1 motorway. These excellent links have meant that Loughborough has had a rich industrial history.
Loughborough Industrialisation
The first sign of industrialisation in the Loughborough district came in the early years of the 19th century, when John Heathcoat, an inventor from Derbyshire patented in 1809 an improvement to the warp loom, known as the twisted lace machine, which allowed mitts with a lace-like appearance to be made.
Heathcoat, in partnership with the Nottingham manufacturer Charles Lacy, moved his business from there to the village of Hathern, outside Loughborough. The product of this "Loughborough machine" came to be known as English net or bobbinet. However, the factory was attacked in 1816 by Luddites thought to be in the pay of Nottingham competitors and 55 frames were destroyed. This prompted Heathcoat to move his business to a disused woollen mill in Tiverton, Devon.[3]
In 1888 a charter of incorporation was obtained, allowing a mayor and corporation to be elected. The population increased from 11,000 to 25,000 in the following ten years.
Among the factories established were Robert Taylor's bell foundry John Taylor & Co and the Falcon works, which produced steam locomotives, then motor cars, before it was taken over by Brush Electrical Machines. Inn 1897, Herbert Morris set up a factory in the Empress Works in Moor Lane which become one of the foremost crane manufacturers by the mid-20th century.[4]
There was also strong municipal investment: a new sewage works in 1895, then a waterworks in Blackbrook and a power station in Bridge Street in 1899. The corporation took over Loughborough Gas Company in 1900.